FOR IMMEDIATE RELEASE
TAMPA, FL 10/19/2020 – During this year's Allied Finance Adjusters Annual Convention Meeting on November 20th, Mark Lacek, author of the Certified Commercial Recovery Agent national certification program (CCRA) offered through RISC's education platform, will be speaking to the attendees about commercial asset recovery best practices.
With COVID-19 weighing heavily on the repossession industry, everyone is adjusting their business models and capabilities. Lacek, considered one of the nation's leading expert witnesses on professional standards within the repossession industry, will be giving attendees a closer look at how they can incorporate the commercial side of recovery into their established repossession agencies. He will cover a broad spectrum of topics, including contacting national commercial lending clients, commercial skip-tracing strategy, re-marketing tips for commercial equipment, billing and invoicing advice, and much more. For the full AFA Annual Meeting agenda and times visit the AFA website here.
All attendees will receive a one-time offer for a 50% discount off RISC's Certified Commercial Recovery Agent course, which normally retails for $360. All attendees will also walk away with a code for a 20% discount off the industry-leading repossession certification, CARS.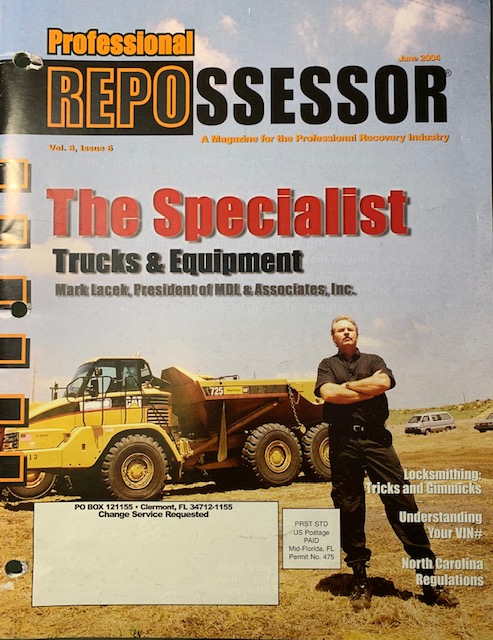 Mark Lacek is the founder of Professional Repossessor Magazine, Commercial Asset Solutions (CAS) owner, and former president of Florida Association of Licensed Repossessors. Mark is also a monthly contributor to the American Towman magazine column titled, RepoRun, as well as a contributing writer for Tow Times Magazine. The full CCRA program is an online certification offered through RISC (Recovery Industry Services Company) and available at www.riscus.com.
About RISC
RISC is an organization dedicated to providing services specific to the collateral recovery industry and advocates on behalf of all professional practitioners with the industry. RISC is the industry leader of professional training and certification for collateral recovery specialists, training over 5,000 agents every year. For more information, visit www.RISCus.com or contact us at [email protected], (866) 996-7472 or (813) 712-7535