TAMPA, FL 4/21/2020 – RISC along with Hudson Cook, LLP, a law firm whose regulatory compliance practice includes work within the subject of automotive repossession, has updated RISC's most popular CARS Continuing Education Course, CE 4. CARS CE 4 covers the "Recovery Process" which includes crucial topics that recovery agencies face on a daily basis. This course is designed to give agents the ability to communicate accurately with clients and provide the framework for agents to complete a wide range of work at the highest level of compliance. Topics include details on preparing assignments for agents, personal property procedures, consumer's right to cure notices, sale of a recovered property and much more. CARS CE 4 is one of several courses that RISC offers that counts towards a recovery agent's need for annual continuing education to keep certifications up to date. To purchase the course go to RISC's website.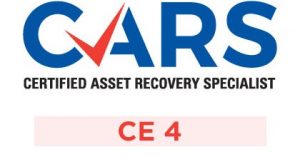 **CARS CE 4 is updated as of March 12, 2020. This course is created for the general U.S. collateral recovery industry and it is the responsibility of agencies to ensure it is applicable to their local city/state laws.
About RISC
RISC is an organization dedicated to providing compliance oversight and training services to the collateral recovery industry and beyond. RISC advocates on behalf of all practitioners within the industry. For more information, visit www.RISCus.com or call (813) 712-7535.